Last week Smile software caused quite some turbulances with the announcement of the new pricing plan and subscription model for TextExpander 6. The scorch criticism let them now row back and make some adjustments to the plans.
From their latest blog post:
We will apply a lifetime discount of 50% off the Life Hacker pricing to customers of any past version of TextExpander. That amounts to just US $20 per year. In our initial rollout, we offered the discount for the first year only, and that was a mistake. We value our long-term customers, and it's important for us to demonstrate that in our actions. Thanks for bearing with us as we sorted this out.

(To those who've already purchased an annual upgrade plan, we'll apply two months of credit to make up the difference. Please give us a few days for this to be reflected in your account.)
Reduced TextExpander pricing for individuals.
Here is the new upgrade plan for existing customers: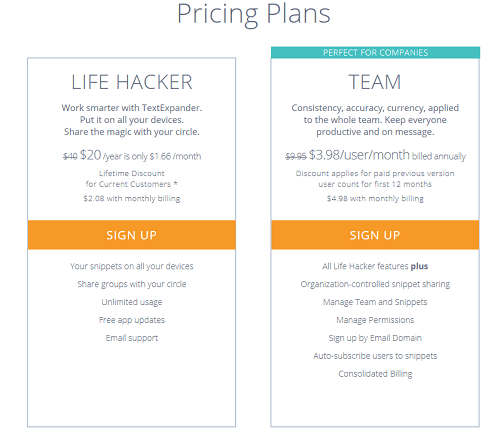 Also for new individual customers the pricing has been reduced for -16% compared to the plan announced last week. The pricing for team licenses was not reduced.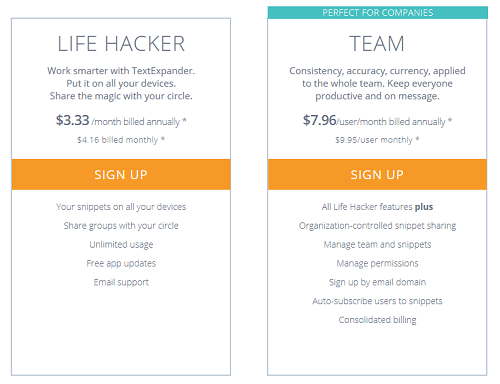 The subscription still model persist.
While Smile's reaction to customer feedback is very appriciated and TextEpander's price seems now more reallistically aligned to its scope, the subscription model and cutoff of syncing over other clouds services than Smile's own syncing engine might still be a dealbraker for many customers, me included. Thus, currently I won't change back to TextEpander and stick with my preferred $5 solution aText, which is brilliant and makes me feel no difference to TextExpander.
Retention of TextExpander 5 support.
We will continue to sell and support TextExpander 5 for OS X and TextExpander 3 + Custom Keyboard for iOS for those who need it.
Well, while this statement appears very welcome on first glance, too, I'm not sure how long Smile will continue support and maintenance for two versions at the same time and a product that generates no revenue any more since TextEpander 6 is in place. Except version 6 will render enough revenue to do so. I'm curious.